♠ Motorcycle Repair, Service & Maintenance ♠
At Pokerville Ironworks, we specialize in service, repair and maintenance of American Made Motorcycles. We perform ALL manufacturers' recommended such as: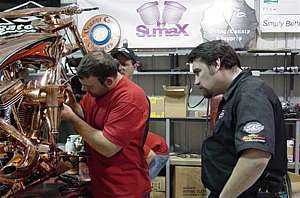 Oil and filter changes
Air filter service & replacements
Drive chain tension adjustment
Carb tuning
Fuel filter cleaning or replacement
Valve clearance (as applicable)
Confirm all fasteners torque specifications
Tire pressure and condition check
Electrical systems
Brake service & adjustments
Top-up all fluids (brake, clutch, oils and water - as applicable)
General lubrication (control levers, side/center stand and control cables)
All scheduled manufacturers recommended service
We're proud to say our staff is made up of the best in the business. We offer motorycle repair and service for most major brands. If you own a Harley Davidson or chopper your in the right place.

For the guys that need to have all the horse power, make an appointment to have an S & S gear drive upgrade installed to make your twin cam come alive! Fully modified, it'll give you an 8-to-12 horsepower increase.
To schedule an appointment, please call our Service Department at:
(608) 437-BIKE (2453)
(608) 576-8279
or E-mail us at service@pokervilleironworks.com